From: melva@netscape.com
Sent: Friday, November 19, 2010 2:30 PM
To: hdomains@hannaian.com ; hdomains@hannaian.com
Subject: Story for Shuffle Boogie Soul
Hi:
My name is Melva Smith, and I am the cowgirl behind the man in the white baseball cap in the Kentucky video clip. Having the chance to dance in this video was important to me because I suffer from a seldom heard of disability called Multiple Chemical Sensitivity. I am a dance enthusiest, and it has always been my life's passion. Prior to finding a place to occassionally line dance at in 2007, I had given up all forms of dance for 15 years because exposures to perfumes and personal products other dancers wear make me very ill. So, being a part of this was like living out a dream.
To me, just getting to the site and dancing in this video was the ultimate challenge. It was filmed at a location that also causes problems with my disability because of the nearby industrial area. This video is one of those things I can look back on and know that I beat the odds one more time. I've since shared it with others who have the same disability, and the enthusiasm has became contagious. The goal was to create a group page at one of the disability websites that would be dedicated to inspiring others to dance for joy. It is so important to find something that keeps you uplifted when you are disabled. As a result, others have began to post videos, try new dance steps, and one even started a Dance Off site. We are talking about people who are rarely able to leave their homes because their bodies react to the everyday environment. To hear about them actually participating in something that can put a little happiness into their day is a blessing.
Line dancers are some of the most considerate people I have ever met. I am so glad that I found this group and look forward to dancing with them in the years to come.
Have a blessed day,
Melva Smith
Louisville, KY.
If you would like to see the page I am talking about, it's located at a website out of HI called The Canary Report go to the section on Groups, and select Dance.

Mulitiple Chemical Sensitivity (MCS)
Breathe Freely Campaign
COLLETONTODAY.COM
Tuesday, October 19th edition of The Press and Standard

News - Walterboro group submits dance video for worldwide compilation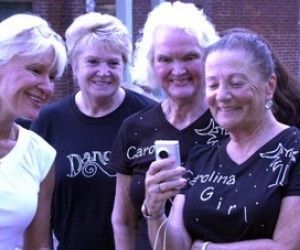 Checking out the video of the dance presentation they just completed are, from left, Suzanne Carter, Joyce Scanton, Sylvia Carter and Lorraine Gehlbach. They did the most popular line dance in the world at the waterfall Oct. 11 for a video that will be apart of a worldwide presentation.

Posted: Tuesday, October 19, 2010 10:00 am | Updated: 9:26 am, Tue Oct 19, 2010.
By LINDA SALSBERRY lindasalsberry@colletontoday.com | 0 comments
Walterboro's downtown waterfall served as a backdrop to the song "Honky Tonk" Oct. 11 as members of three local dance groups joined for the first time to perform the number one line dance in the world - the S.B.S., Shuffle Boogie Soul.
Terry Pournelle, who instructs The Lowcountry Scootin' Boots and the more advanced group, The Carolina Girls, said she taught the dance to the adults and Helena Westbury, instructor at Ilona's School of Dance, taught the youth.
"It was great," Pournelle said. "We walked through it one time and then videotaped it. I couldn't ask for it to be any better."
The adult groups she leads entertain at area nursing homes on a regular basis. The next big performance is the H2U senior friends party at Colleton Medical Center in December.
"Dance brings everyone together in a happy environment," Westbury said. "Dance is universal."
The line dance the adults and youth learned is the most popular dance right now according to KICKIT World Line Dance Survey.
The video made in Walterboro is already posted on YouTube and has been submitted for a broadcast at the Hannaian.com Treasure Coast Blues Festival in Port St. Lucie , Fla., Nov. 6.
According to Pournelle, that performance will be noteworthy because it will be the center of a project tied to the YouTube videos from Walterboro and other locations around the world. It is hoped the events surrounding the festival and dance phenomenon will qualify for one or more Guinness world records. A dance documentary is also in the works.
For the complete story, see the Tuesday, October 19th edition of The Press and Standard.
S.B.S. Shuffle Boogie Soul Line Dance-Walterboro, SC. DancinTerry | October 11, 2010. The Lowcountry Scootin' Boots/Carolina Girls and Ilona's School of Dance kids dance S.B.S. Shuffle Boogie Soul line dance choreographed by Ira Weisburd at the waterball in Walterboro, SC. Music is Honky Tonk by Preston Shannon. October 11, 2010. (Editors Note: This is an example of a small dance group using historic local scenery for their video presentation and receiving excellent press coverage for their efforts)